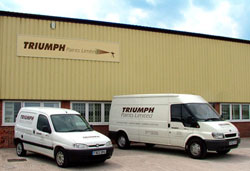 Triumph Paints was incorporated in 1986. We produce a wide range of protective industrial coatings and finishes. We also produce commercial vehicle paint.

We produce paints and coatings for prominent companies producing structural steel, offshore containers, waste containers and commercial vehicle operators. All require different types of coating , yet Triumph Paints provides them all.

We pride ourselves on the production and delivery of competitively priced materials with delivery second to none.

In 2004 we moved to new premises in Sutton in Ashfield, Nottinghamshire. Our new premises of 6,200 sq ft situated on 1,1/4 acres ensures that we have plenty of room for further expansion into the paint and coatings business.

Melvyn. D. Carver: Managing Director.